Brand vs. Graphic Designer: Defining Roles & Which You Need
If you're looking to create a new logo or brand identity for your business, you may be wondering whether you need a brand designer or a graphic designer. While both types of designers can do great work, there are some differences between them that you should understand before making a decision.
In this blog post, we'll explore what each type of designer does and how to decide which one is right for your business. We'll also look at the pros and cons of working with each type of designer, so you can feel confident and excited the next time you hire one.
Ready to find out what the key differences between a graphic designer and a brand designer are? Grab some tea, get comfy and let's delve right in!
↘️ Psstt...If nailing your branding is a top priority on your list, check out the free training: Get Your Brand Together.
---
JUMP TO A SPECIFIC CHAPTER:
---
First, what is a brand designer?
Here's a brand designer description: The brand designer is the creative expert whose job focuses primarily on creating a cohesive and recognizable brand or visual identity for a company or product.
Brand designers (sometimes also known as a corporate identity designer or brand identity implementation specialist) mainly design brand identities to suit new businesses, or assist in redesigning and updating existing brand identities. This includes things like logos, color schemes, typography, and overall visual style.
What is a graphic designer?
A quick graphic designer definition: A graphic designer is a professional within the graphic design and graphic arts industry who assembles together images, typography, or (sometimes) motion graphics. A graphic designer creates the graphics primarily for published, printed, or electronic media, such as brochures and advertising.
A graphic designer works to promote a brand identity through marketing and visual content from logo design to advertising, copywriting or slogan design and branding. It's likely they manage multiple projects simultaneously while some brand designers (like me!) prefer to work with one client at a time.
Some graphic designers have a more diverse skill set making them proficient in custom web design, illustration, and animation. Some can even be a print designer!
Other designers expertise could also include product design, software design and even information design.
What are the main differences between a brand designer and a graphic designer?
Brand designers focus on creating a strong brand identity
The most obvious difference between graphic designers and brand designers is that brand designers focus on creating a cohesive visual identity or sub brand for a company (like a brand strategist), while graphic designers focus on creating visuals for communication.
Brand designers are usually more experienced
Brand designers typically have more experience with logo design and brand identity creation. This means that they're better equipped to develop a unique and recognizable visual style for your business that will resonate with your target audience.
Additionally, brand designers have a deeper understanding about how brand design and business correlate. For example, how color theory and typography work to attract your ideal client. These skills are essential for creating a strong and cohesive identity that improves your business.
(However, it's worth noting that not all brand designers have the same level of experience or skill. So, be sure to ask about their experience before hiring anyone.)
Graphic designers focus on creating visuals
On the other hand, graphic designers typically are more focused around communication design, a.k.a, graphic design. This means that they specialize more on creating visuals and creative concepts that communicate your message effectively.
Essentially, a graphic designer will take the brand identity guidelines from a brand designer (or their client's brand guidelines) and make visuals that support your digital marketing efforts.
Examples of graphic design include advertisements, art and illustrations, social media graphic design, flyers, website design, and packaging.
Some graphic designers are familiar with UX (user experience)
Additionally, some graphic design experts have an understanding of user experience (UX) and can implement this knowledge in your website design. These skills are essential for creating visuals that are both effective and easy to use.
However, it's worth noting that not all graphic designers have the same level of experience or skill. If you are seeking strong UX on websites, it's preferable to hire a web designer or UX design specialist over a graphic designer.
Another comparison to note – Graphic artist vs graphic designer: same same, but different.
A graphic artist creates visual art using traditional or digital media, like illustrations, paintings, and drawings. They're all about the artistry of creating visuals.
A graphic designer, on the other hand, uses design principles and software tools to create visual elements and layouts for different media formats. They're more about the technical and problem-solving aspects of visual design, like typography, color theory, and layout design.
Where brand design and graphic design overlap
It's so much easier to find that one amazing person who can tick off all the boxes. Well, I have good news for you.
Yes, a brand designer can be a good graphic designer or logotype designer. This is because brand designers typically have more experience with logo design and identity creation. Many times graphic designers and brand designers work in the same industry and have similar clients (though the stage in the process is different).
Additionally, many brand designers start off their careers as graphic designers and have a solid knowledge of graphic design, and are active members of the creative industry.
Personally, as a brand designer, I start by helping my clients (re)create an authentic identity by finding the perfect fonts, colors and logos that are in alignment with their brand values before moving into web design.
Purposeful brand designs like these help boost brand recognition as time goes on. Check out some of my client's results to feast your eyes!
So, how do you decide which type of designer is right for your business?
To put it simply, it depends! Many factors will influence your decision on whether you should hire a brand designer or graphic designer for your business. Here are some:
Your business needs and goals
Do you need someone to make your visual branding from scratch? Or do you need someone to help maintain an existing identity with great graphic design?
If you're looking to create a strong and recognizable identity, then you'll need a brand designer. A brand designer serves to help you level up your business strategically. They will look at your ideal customers, mission and vision to create your visual brand strategy.
However, if you're primarily concerned with creating effective visuals for communication, then you'll need a graphic designer. Here, you may have already planned your visual strategy with your brand designer or on your own and passed it onto the graphic designer to work with. They can also work hand in hand with a marketing team.
It's also important to budget accordingly. A brand designer can help you build a unique and recognizable identity. They typically have a deeper understanding of color theory and typography and how it all relates to business and marketing, which is essential for creating an effective visual identity.
As a result, this brand design skill set and experience often make them more expensive than their counterpart, the graphic designer.
A graphic designer is typically less expensive than brand designers but may require more direction.
💡 💛 Verô's pro tip: Hire a brand designer for brand positioning and strategic visual direction and then find a graphic designer who can bring that vision into life with their technical skills. Having a clear direction will save you so much time and money in your brand identity design!
It's possible to hire logo designers to make a very attractive logo. Nevertheless, sometimes you can control how it's done. Telling a designer what you are interested in will make it work according to those parameters.
You are the branding expert. Graphic designers implement.
Essentially you offer the strategy and brand design blueprint and the visual designer uses it in web design, art creation, and other graphic design.
These types of relationships can be incredibly beneficial if you have a strong understanding of branding and feel confident with giving direction.
If brand design isn't your strong suit however, I recommend hiring someone who can support you. Otherwise you'll find yourself rebranding your business and entire online presence (like Instagram) every so often and that can hurt your brand (and wallet) big time!
If you're still unsure if you should DIY or hire an expert, start by exploring how to nail your branding on your own with Get Your Brand Together.
What comes first?
Your brand identity should be created before your graphics. This is because the former (your branding strategy) will inform your visuals.
For example, if you're creating a brand for a wellness business, then your visuals should reflect your brand personality.
This might include using muted colors, organic shapes, and a natural color palette (or specific hex codes). This information informs your web design and other forms of marketing for your business.
Your identity will be the foundation for all of your visuals moving forward. So, it's important to take the time to develop a strong one before graphic designing. In other words, you should always hire a brand designer before hiring a graphic designer. One informs the other, both are essential for business success. (P.S. Looking for design services? Learn more about me here and head this way to learn how we can partner.)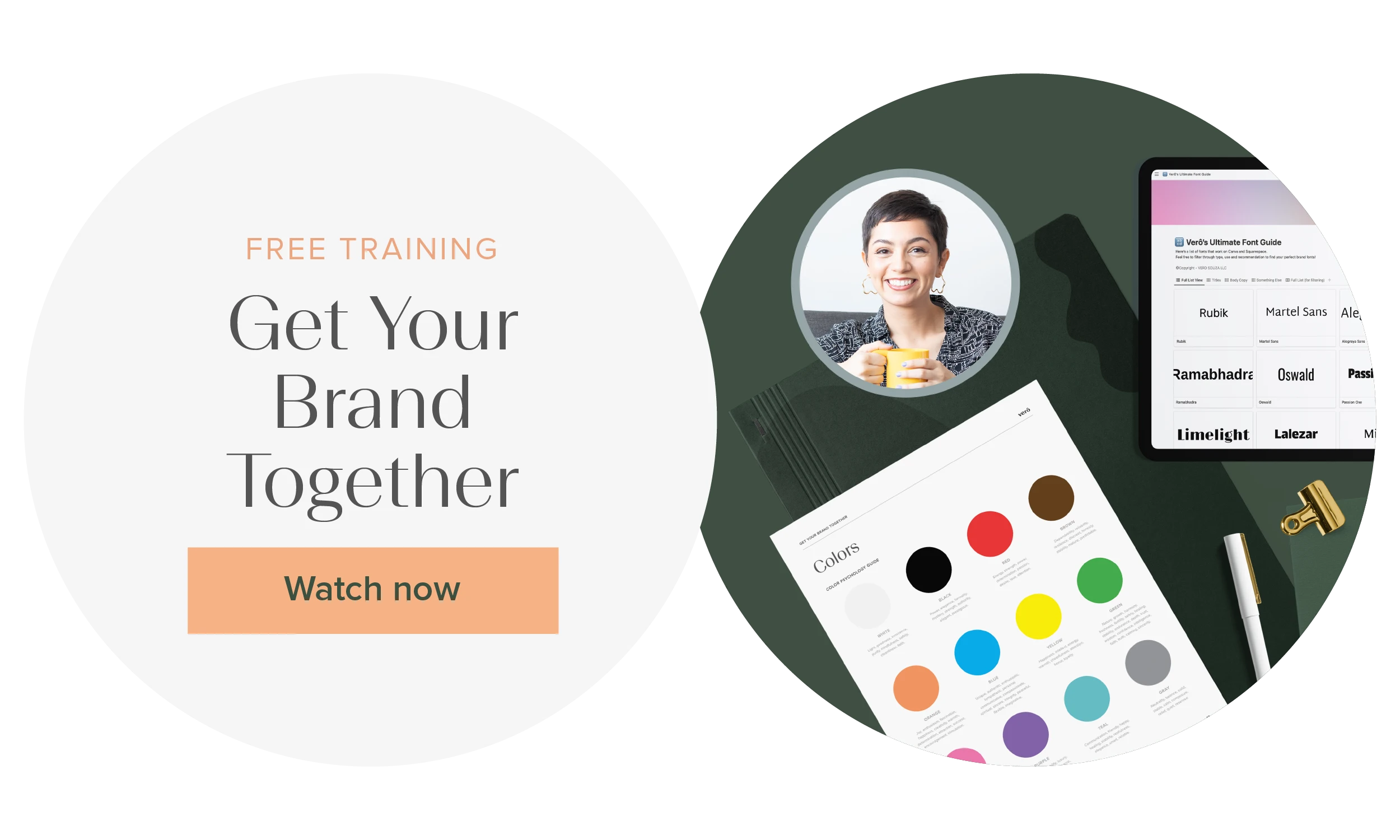 Examples of great brand design you'll love
When it comes to brand design, there are endless possibilities. But here are a few of my favorite brand strategies developed, logo design and brand development to give you some inspiration.
The Body Shop
In 2004 The Body Shop revamped their brand identity, in order to communicate their re-positioning as an ethical company and improve their brand image.
A new simpler logo was launched which makes it appear more friendly and approachable. The new brand colors are dark green and white, which reflect The Body Shop's natural and organic positioning.
The brand refresh was well-received by both consumers and critics. It helped to communicate The Body Shop's new ethical positioning and also gave the brand a more modern and youthful look.
S'well's Branding
Another good example of a brand that has successfully used design to create a strong identity is S'well, a reusable water bottle company.
The brand is derived from the idea of wellness, and the concept that design may contribute to people's lives being better. The identity, therefore, had to be as unique as the product itself.
The brand's appearance is based on simple, uncluttered Scandinavian lines, focusing on the key elements of their brand personality. As a result, their distinctive use of color and unique patterns are instantly recognizable by customers.
Dove's Branding
Dove is another great example of a brand that's created a strong identity.
The brand's logo is an icon that represents a dove in flight. The brand uses blue and white throughout its visuals, which creates a feeling of purity and peace.
Dove's brand identity is successful because it's simple and easy to remember. The brand's logo is an icon that represents a dove in flight, which is a universal symbol of peace. As a result, Dove has been able to successfully use its brand identity to create an emotional connection with its consumers.
Rituals' Branding and Graphic Design
The brand identity for Rituals was inspired by the Japanese philosophy of wabi-sabi, which celebrates the imperfections in life.
The brand's logo is a simple yet elegant wordmark that features slightly modified letters. The brand uses muted colors and organic shapes throughout its visuals to create a calming and serene aesthetic.
Let's Write Your Stories (My Client!) - Branding and graphic design
Heather is the founder of Let's Write Your Stories, helping innovative brands with marketing copywriting that sells. Heather reached out to understand how she could elevate her brand to grow her small business.
The aim: help her infuse more authenticity into her branding and build a brand that looks high-end and luxurious while approachable so she could attract more ideal clients.
As a result, we created a brand design that's more aligned with her and her business.
Here's what she had to say about the new branding and her results:
"I feel refreshed and liberated when I look at my brand because it reflects who I am and what my business does. I've also attracted bigger contracts and more aligned prospects while retaining my best clients. So many people have noticed the work, and they comment not just on the graphic design but that they see an energetic shift happening, and it's true!"
Indeed, having a brand that is authentic and impactful makes all the difference!
Tips on working with a brand or graphic designer
So, now that you've made up your mind about whether you need a brand designer or graphic designer, it's time to reach out! If you're not sure how to and what to expect, we've got you covered.
When working with a brand or graphic designer on a project, keep these tips in mind.
Be clear about your goals and objectives from the start.

The more specific you can be, the better results you'll get.

Be prepared to provide concrete feedback throughout the process.

Your input is essential to creating a brand or graphic design that you're happy with.

Trust your gut.

If you don't feel like a particular designer is the right fit for your project, move on to someone else.

Don't be afraid to ask for revisions.

Numerous graphic designers and visual designers are happy to make changes to make sure the final product is everything you were envisioning. Be prepared to answer why you think a tweak is necessary.

And finally, remember that branding and graphic design are an investment in your business.

By taking the time to create a strong identity from the get-go, you'll set yourself up for success down the road.
Not sure what to do next?
If you're still unsure if you should DIY or hire an expert, explore Get Your Brand Together and discover which intentional next step you should take for a cohesive identity that everyone adores.
And if you're looking for graphic design and branding services (or a full service creative agency) – explore my portfolio and design capabilities here.
Until next time, take care!
Verô
Loved the insights?
Don't stop now! Click below to check out my other articles.
Explore the blog