You've got your brand together, but something just isn't clicking...
You give your Instagram and website a quick glance and it's like something is missing.
Your brand's visual identity just doesn't have that "wow" factor—it's a bit all over the place and lacking that unique, stand-out quality you crave. Deep down, you know it could be so much more.
Or maybe you went for it and hired someone from Fiverr or Upwork, hoping they would nail your brand's look and feel.
But alas, what they delivered fell flat and missed the mark.
Perhaps you went with a pre-made website kit, but now you find yourself lost in the sea of sameness.
Every time a potential client asks for your website, you reluctantly hit send, secretly wishing you could hide under the blankets.
As a resourceful business owner, y
ou're no stranger to getting things done efficiently.
You've embraced the power of templates and frameworks to kickstart your brand and create a cohesive image.
But now, it's time to take it up a notch.
Wouldn't it be nice to have a designer with a decade of experience take a look at your work and give you individual attention?
Let's go beyond random templates and crossing your fingers hoping that *it will look good*
Let Verô help you go from a pile of templates, freebies, indecision, and overwhelm to a better brand, website, and marketing suite in just three months within a supported membership setting with personalized attention.
Join now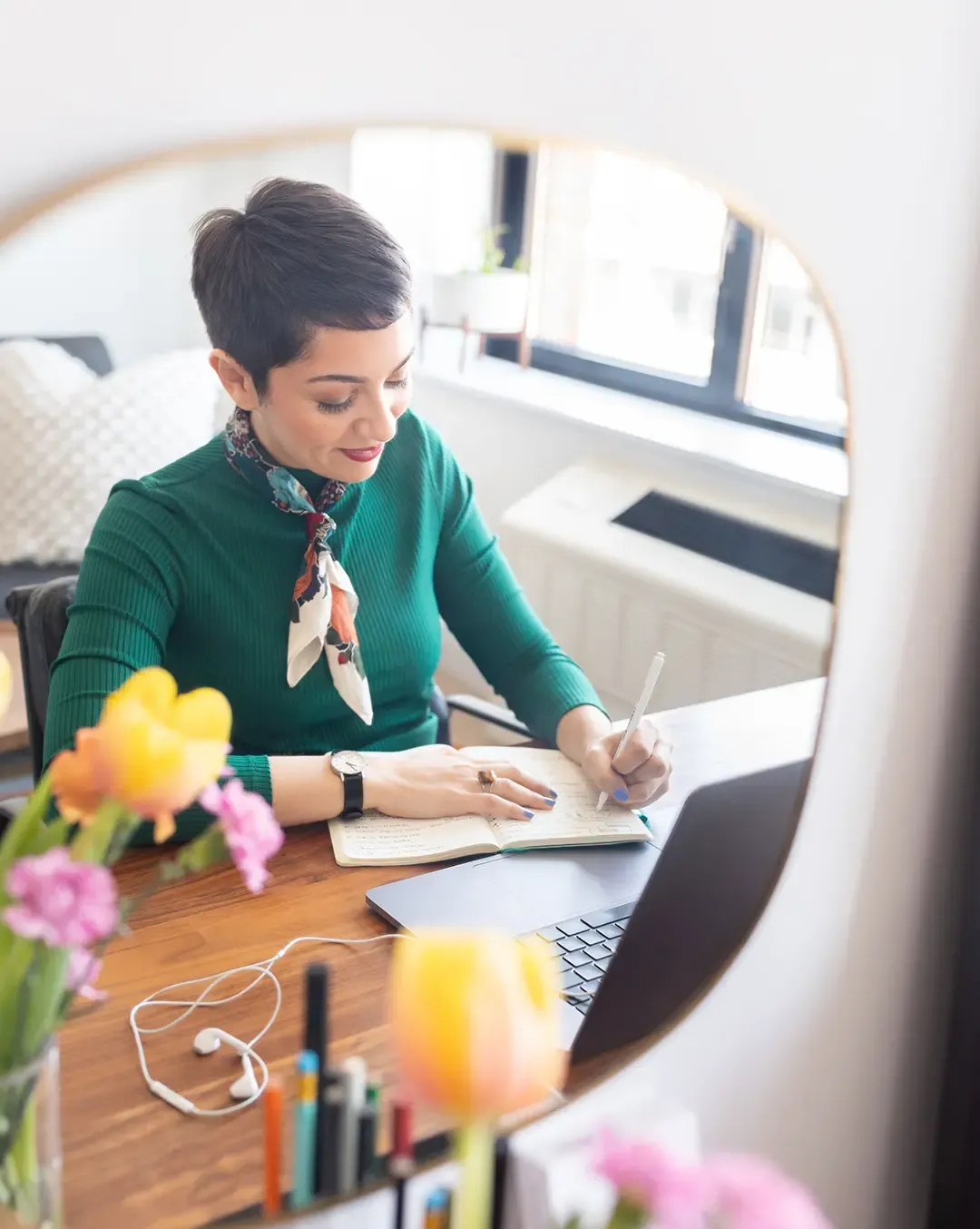 Amplify your online presence and transform your brand into a lead-generating powerhouse

If your brand looks stuck in the past, you might be missing opportunities! Together we'll make sure your brand does the work to "wow" potential clients.
Feel proud of your brand and make a lasting impression

No more cringing or second-guessing! With Verô in your front pocket, you'll burst with pride at your professional brand image. Stand out online, confidently showcasing your brand and inspiring your audience.
Explore other creative angles and possibilities for your brand with the guidance of a pro designer

In a supportive environment, Verô will guide you to effortlessly tap into your creativity while maintaining your brand professional and polished. Have a brand that perfectly aligns with your vision, values, and target audience and that creates a captivating experience for your people.
LAST CHANCE FOR 2023
Make It Your Year
Now's your chance to join us and have your brand ready for the new year. Doors for enrollment close on September 27th. Let's make this year memorable and impactful together!
"This was fun and I tapped into my much recessed creative side which has not been active for a long time. I loved Verô's videos and the approach to keep me focused."
– Paula H., Leadership Coach
"It felt really good to get a second pair of eyes from someone who is professional and experienced to offer her nuanced perspective on my self created branding materials. If you want to look more cohesive, consistent, and aligned with what your business actually represents, I highly recommend getting Verô's advice."
– Jayne Anne A., Health Coach
"Verô will give you open feedback on your branding and will ensure your brand attributes come to life!"
– Kim B., B

elongingness Consultant
"I'm so happy with my brand."
Since having my new brand, it is much easier for me to create visual marketing materials because there are solid creative foundations in place.
– Emily P., Career Coach
"My brand looks professional and I'm so happy with it."
I launched my new business with confidence back in 2022 thanks to the branding help from Vero.
– Victoria V., Writer
Watch Victoria's live feedback session ⤵️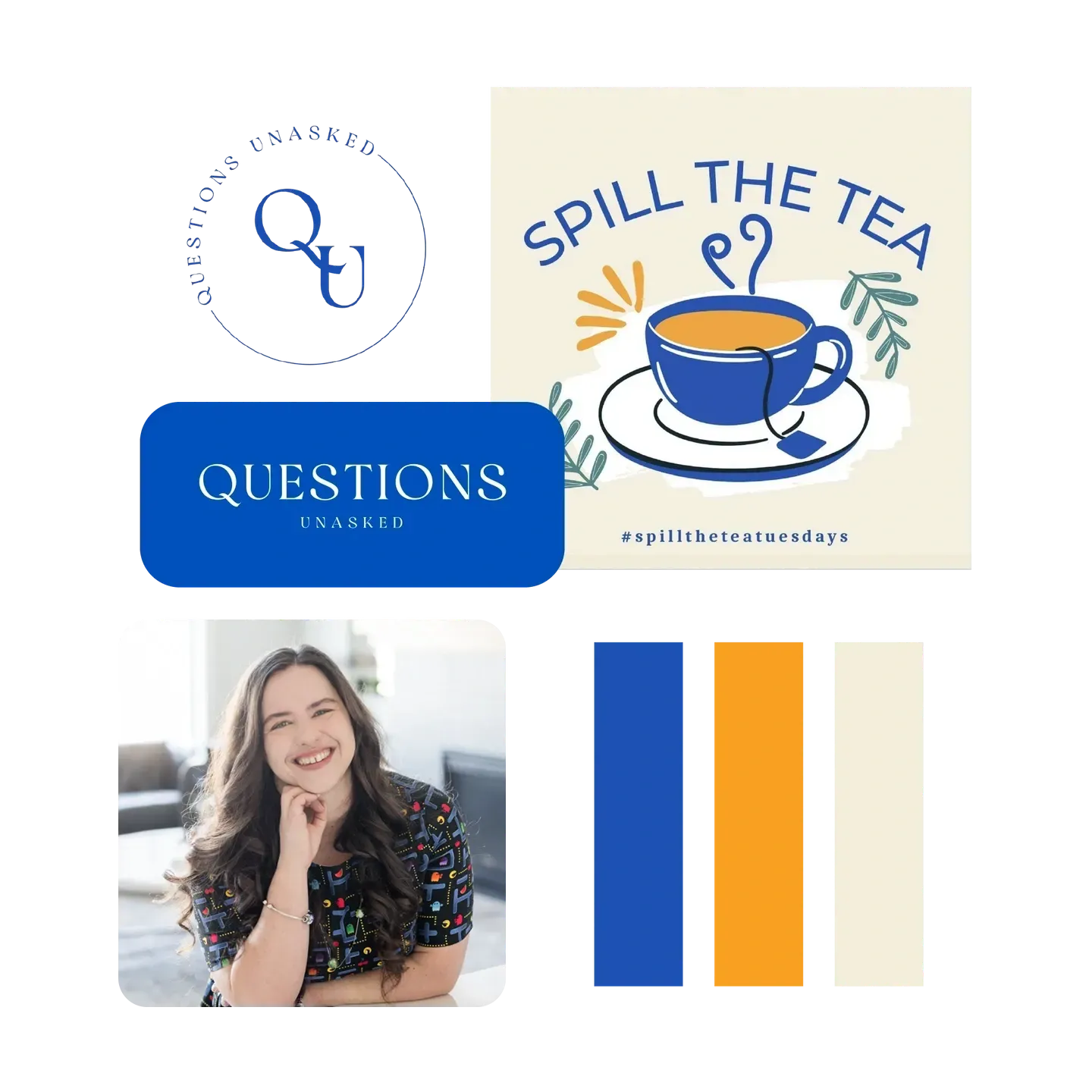 "My goal was to find out more about and get advice on my new business branding. Everything was helpful. I now feel confident moving forward."
- Jillian P., Virtual Assistant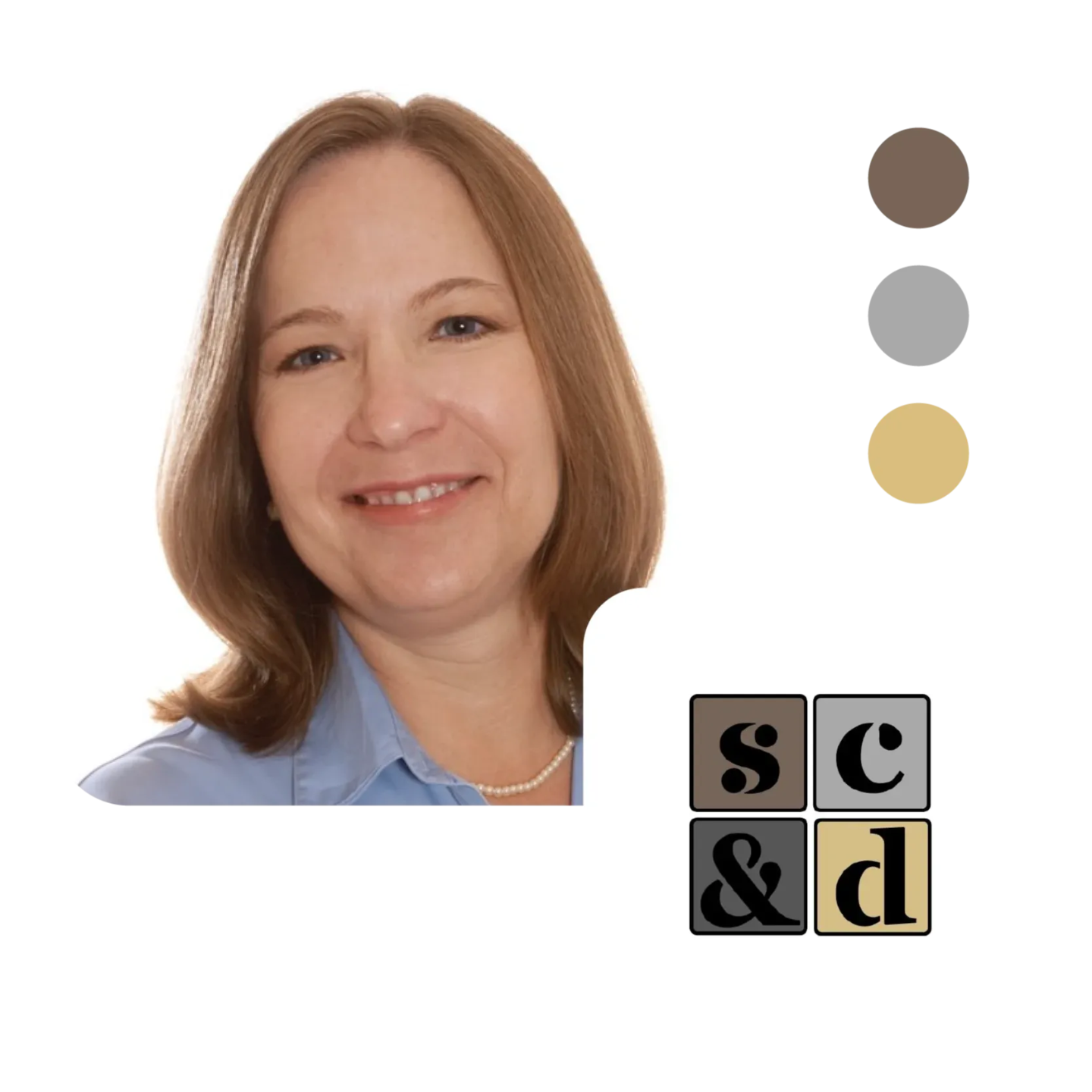 "Verô was helpful in explaining how to improve mine and everyone's websites!"
– Sally C., Commercial Designer
"The feedback for my branding was fantastic to hear. I also loved hearing what Verô had to say about other member's websites. Very helpful for me since that is my next step!"
– Vicki R., Nutrition Health Coach
"

Defining my brand, taking a deep dive into our values and what we want to bring to the world was my favorite part."
– Hailey S., Wellness Retreat Host
"I launched my new business with confidence."
– Goldie H., Leadership Coach
Meet Verô
Brand identity designer & strategist here to empower entrepreneurs and business owners who feel stuck and overwhelmed in their branding journey.
Together, we'll craft a distinct and captivating brand that truly represents who you are and what your business stands for, resonating with your target audience.
With 10+ years of expertise and proven strategies, you can experience a brand transformation in just 90 days, leaving behind generic designs and DIY struggles.
Find your center and level up your confidence as you dive into the framework and receive personalized guidance from Verô herself.
(Yes, you read that right—individual attention, ftw!)
Gain VIP access to a treasure trove of tools and resources created and curated by Verô, ensuring you have everything you need to succeed.
(Verô is committed to consistently supporting her members, so you're in good hands!)
And here's the best part: All of this comes at a fraction of the cost of hiring a brand and web designer. (To give you an idea, client projects range from $7K–10K.)
This is the boost your brand needs to attract clients and generate income, empowering you to hire a designer down the road with absolute clarity on your vision.
Ready to Make (your brand, website, marketing) Better?
Here's what's waiting for you inside:
ONE ORGANIZED PLATFORM
90 Days Of Access
Let's keep things simple, efficient, and oh-so productive! All resources neatly organized in one secure platform you can access anytime. No more hunting for files or wasting time on endless searches. With 3 months of unlimited access, you'll have everything you need to get moving.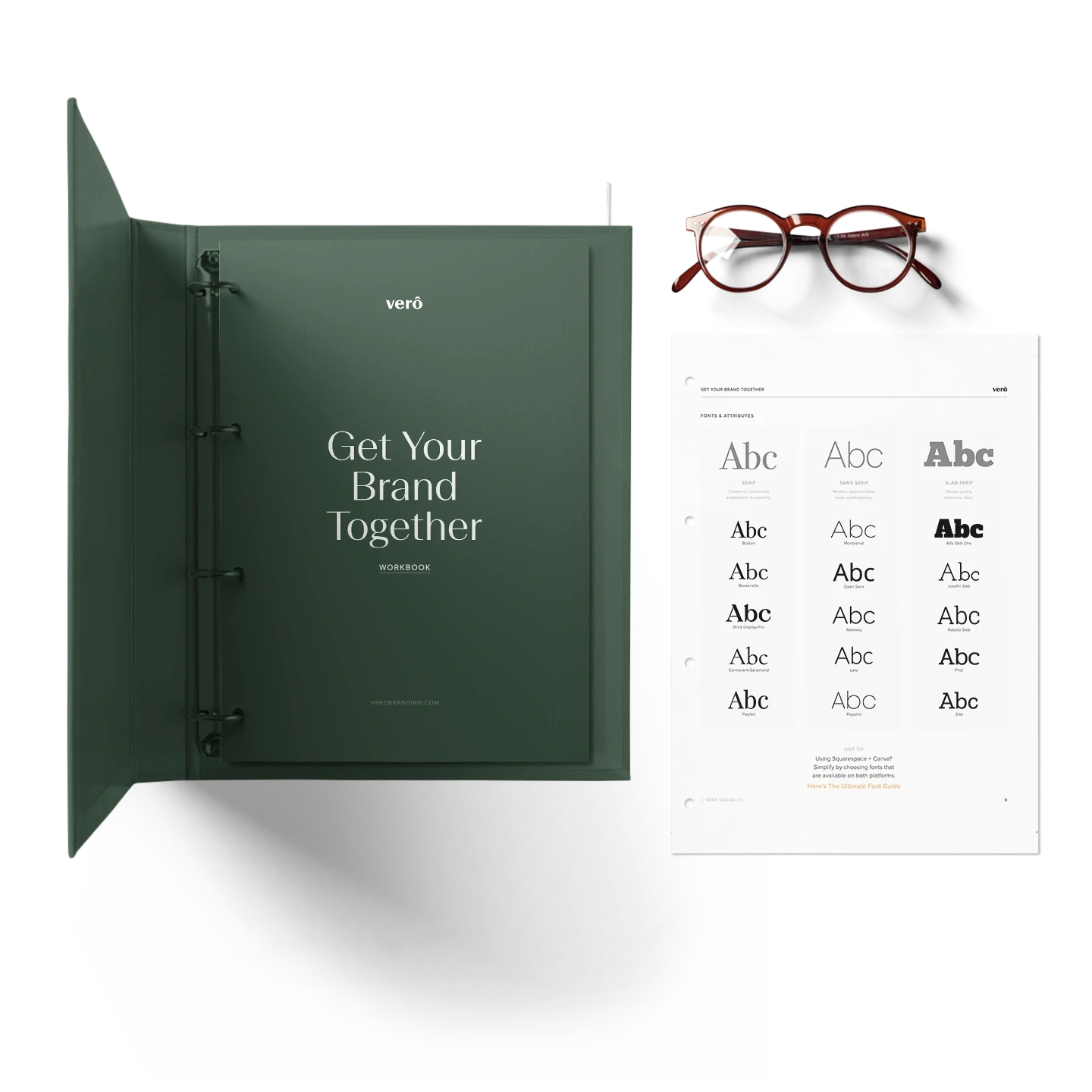 GET YOUR BRAND TOGETHER
Key Brand Attributes Finder
A game-changing method to bring intentionality and originality to your brand. Prepare to witness how effortlessly you can infuse your authentic style into your brand kit. With mindful precision, you'll map out your brand's visual identity, ensuring a cohesive and captivating presence.
GET YOUR BRAND TOGETHER
Color Psychology Guide
Evoke emotions through strategic color selection. Discover how to choose hues that resonate deeply with your target audience, effortlessly attracting them and forging a strong connection. Let's ensure that every shade in your brand palette elicits the precise feelings that draw people closer to you. Captivate your audience with the perfect colors that speak volumes about your brand's personality!
GET YOUR BRAND TOGETHER
The Ultimate Font Guide Database
A curated collection of free fonts meticulously handpicked by yours truly. Accessible on Notion, this database is your font treasure trove, compatible with both Canva and Squarespace. Say goodbye to font-related indecisiveness as I've even included bonus filtering to highlight my top recommendations. Whether you need fonts for titles, body copy, or something else entirely, this database has got you covered.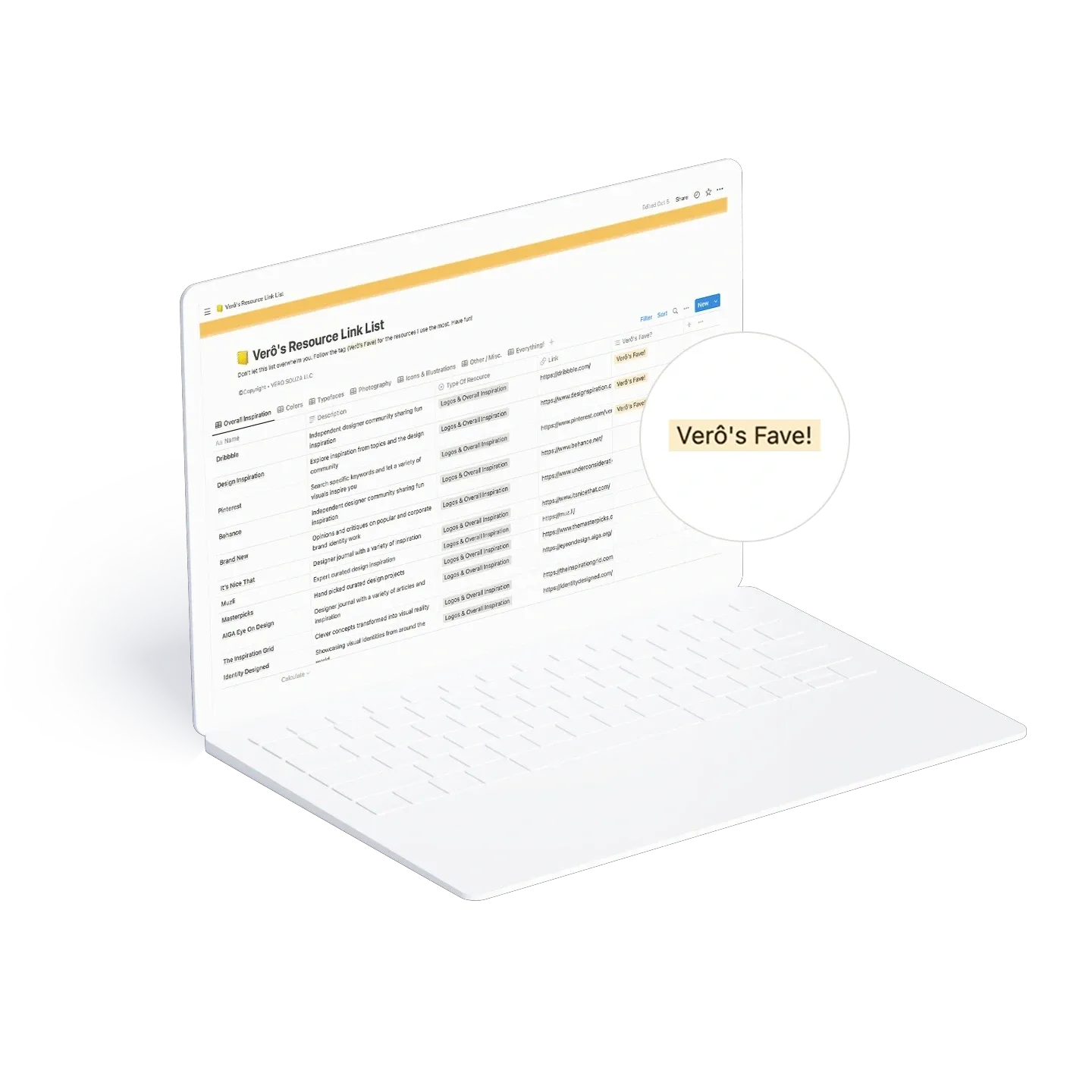 GET YOUR BRAND TOGETHER
Verô's Resource Database
Find top-notch free fonts, trusted type foundries, and endless inspiration for your unique style. I've gone the extra mile to curate the best-of-the-best, and with bonus filtering for my personal favorites, your web surfing will be turbocharged. From discovering the perfect fonts to finding inspiration that speaks to your brand, this database has it all.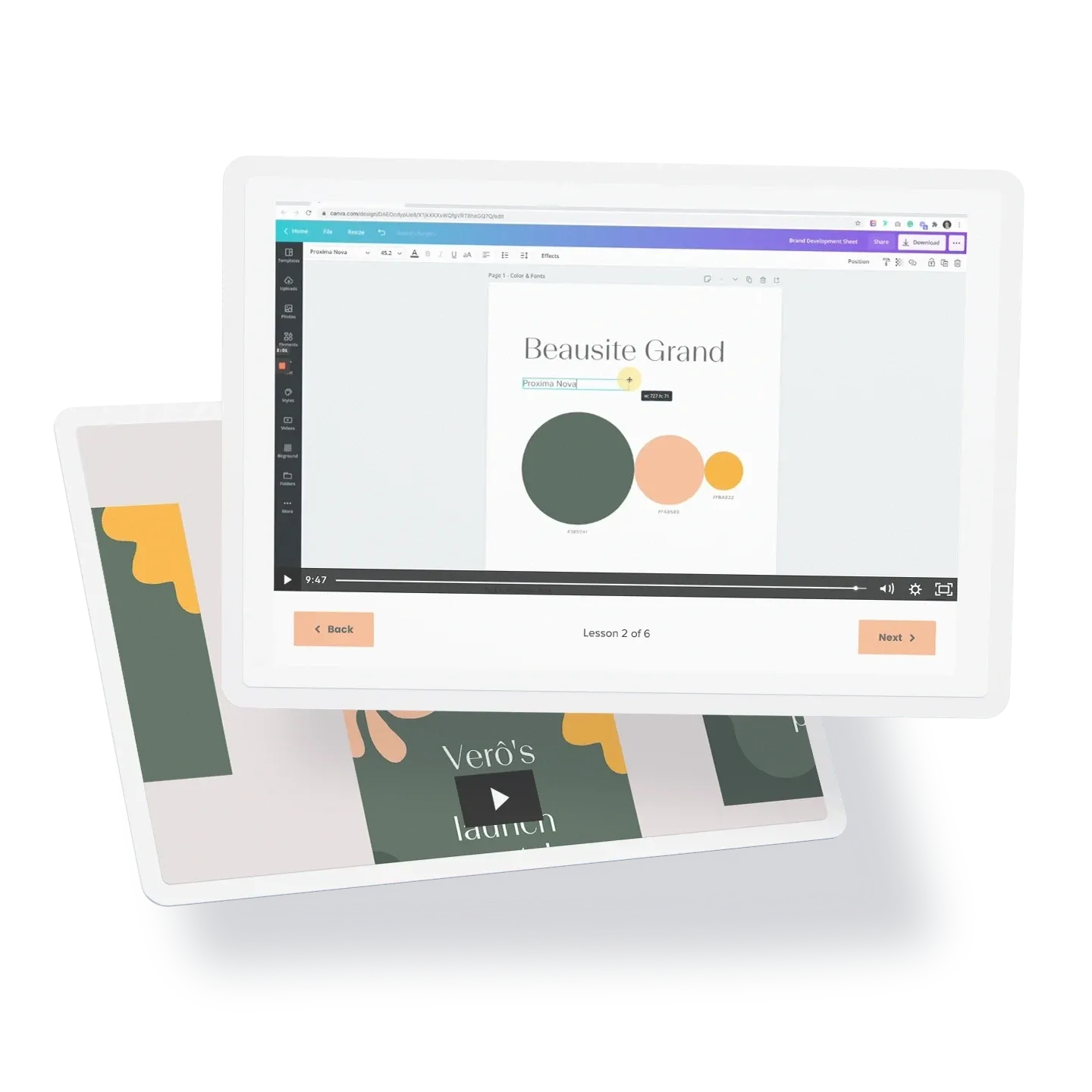 GET YOUR BRAND TOGETHER
Build Your Brand Kit Inside Canva
Step-by-step video guidance that will have you creating and customizing your brand kit with confidence. I'll walk you through the process, showing you how to set the perfect brand fonts, logos, and colors that capture your unique brand identity. Get ready to unleash your creativity and watch your brand come to life like never before!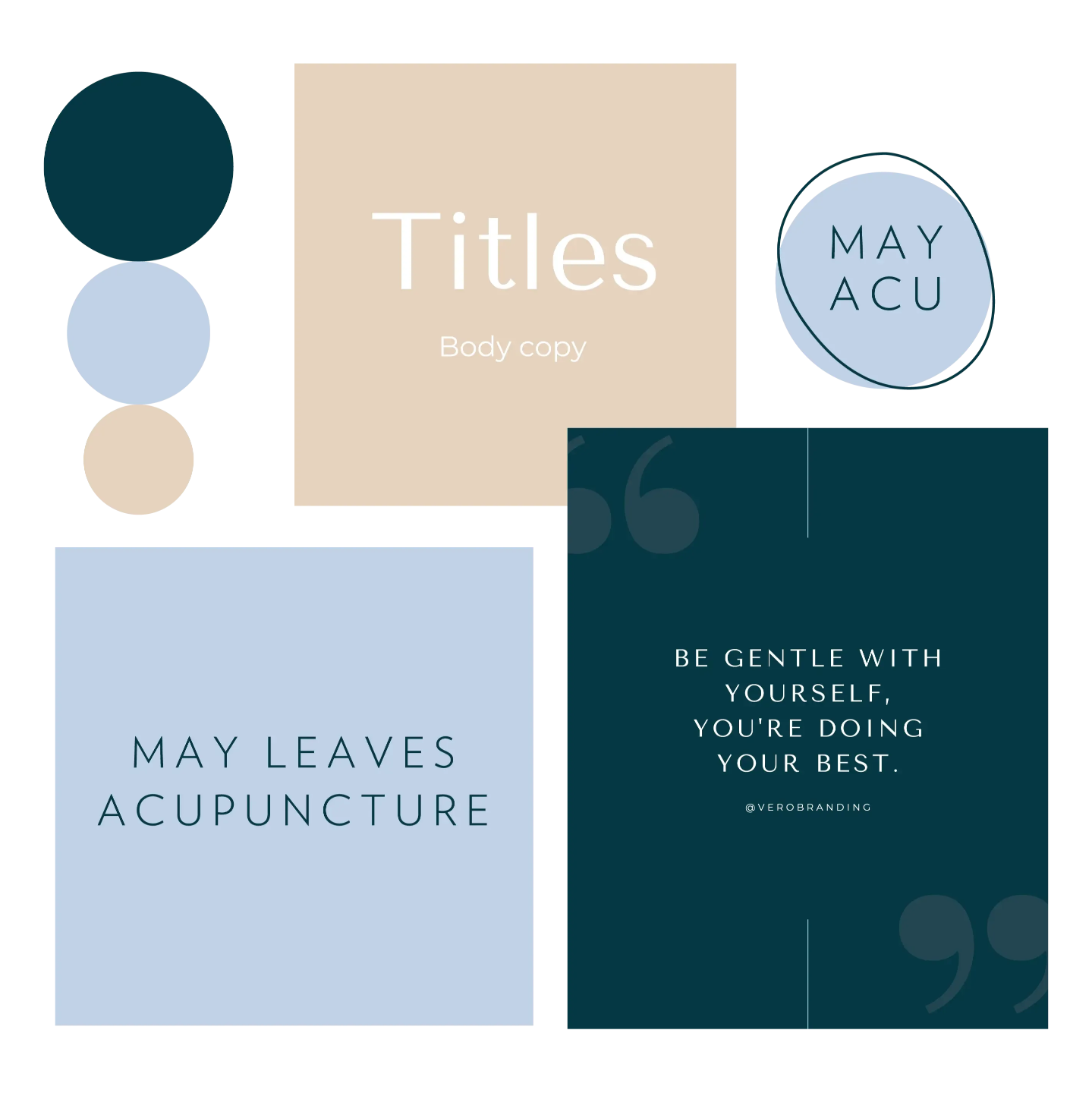 GET YOUR BRAND TOGETHER
Pre-made Brand Starter Kits
Say goodbye to the fear of starting from scratch with ready-to-use brand kits that have been proven to accelerate the creation process.
Inside, you'll discover four carefully crafted starter kits that you can take, modify, and make your own. It's the ultimate shortcut to getting your brand up and running.
GET YOUR WEBSITE TOGETHER
Build Your Website On Squarespace
Hit that publish button! The entire training series to create a seamless user experience that captivates potential clients from start to finish. Rest assured, this is the exact process I use with my private clients, and it works wonders. Let's transform your website into a powerful tool that drives conversions and brings your business to new heights.
INSTAGRAM REBRAND
Rebrand &
Announce Your New Brand Image
Unlock a mindful rebranding process with Verô's workbook and video guide, packed with step-by-step instructions. Learn how to announce your new brand image effectively on social media, ensuring maximum impact. Plus, eye-catching launch visuals and copy to help you unveil your refreshed brand to the world and generate the buzz your business deserves.
INDIVIDUAL ATTENTION
Private Check-Ins
Experience the power of private check-ins, where you'll receive Verô's dedicated attention and expert insights on your work 3 times: one for your brand identity, one for website design and one for your marketing designs! Feel fully supported as she dives deep into your brand, providing invaluable guidance and helping you elevate your creative journey.
LAST CHANCE FOR 2023
Make It Your Year
Now's your chance to join us and have your brand ready for the new year. Doors for enrollment close on September 27th. Let's make this year memorable and impactful together!
Need an even more flexible payment plan?
I can't find a specific item in the bundle, but I think I really need it.
I've already created something. Is this membership right for me?
I'd rather buy the digital products individually. Is that possible?
I haven't created a brand or website yet. Is this membership right for me?
Can I purchase this bundle for myself or delegate it to my assistant or virtual assistant?
I don't have a business yet (but I'm dreaming about it). Is this membership right for me?
Do I need to start my brand from scratch?
Have more questions for Verô? Feel free to contact her directly here.
Make your brand a true powerhouse
Go from a pile of templates, freebies, indecision, and overwhelm to a better brand, website, and marketing suite in just three months.
Join now
Disclaimer: The testimonials provided are from actual customers who have participated in Verô's offerings. Results may vary.