Introduce New Logo On Instagram: 10 Top Tips
Are you planning on launching a new logo soon? Then, Instagram is the perfect platform to do so!
A logo is more than just an image; it's the face of your business. It's how customers and clients identify you, and it can be a powerful tool for marketing your new brand. And with over one billion active users on Instagram, your new logo will reach a vast audience in no time.
But how should you navigate this? If you've been second-guessing your every move, I've got you covered.
In this blog post, I will share 10 tips that will help you launch your new logo on Instagram and to help your small business get the buzz and engagement it deserves. We'll also go over when you should even be getting a new logo and what you should be thinking about when designing it.
↘️ Before we dive in, if you're wanting to rebrand your Instagram, check out this blog post.
---
LET'S DIVE IN
---
First off, how often should you change your logo?
If you've scoured the internet you've probably seen websites talking about modernizing logo designs every 5 to 7 years to stay relevant.
But let's not take that as a rule of thumb. There is no set timeline for updates. And many iconic businesses, like McDonald's, Pepsi, and Nike have kept the same logo for years before considering a change!
This is because customers appreciate it when a business has a consistent identity. In fact, according to the latest numbers, consistent branding presentation increases revenue by 33 percent!
This makes deciding to update and launch a new identity even more crucial. This decision can even end up costing your brand and affecting your relationship with your fan customers! Just like what happened to Gap:
Gap: When logo updates go wrong
Gap changed their 20-year-old logo in 2010 and then backtracked fast due to public outcry.
What happened? Customers felt the change didn't represent the brand story well. As a result, the business lost sales and had to spend millions of dollars to revert to their old identity.
So, what was this redesign based on?
Well, it appears that even Gap's team was excited to modernize without putting much thought into it. According to the Brand Journal, Gap was simply experiencing "brand fatigue" after having the same logo for over 20 years and just felt like a brand update would be good for the business. The critiques and drop in sales proved otherwise.
So, when is the right time to update your wordmark or logo symbol?
Let's face it: your logo is one of the most important aspects of your business identity.
It's often the first thing people will notice about your business, so it's essential to make sure it accurately represents who you are and what you do.
So, when is it time for a change? Well, as we mentioned before, there's no defined rule here. But there are a few signs to look out for that can guide your decision. Here are some:
Your business has evolved
Remember, your logo design should always reflect your brand blueprint. If your business has changed significantly since you first started, then your logo should reflect that.
For example, if you've expanded into new markets or have a new mission, like Google.
Google launched their new logo in September 2015. The goal was to reflect the company's evolving mission from "organizing the world's information" to "helping you get things done".
As a result, Google's logo was updated to be more playful and expressive to make the business appear more human and personal.
You're targeting a new audience
If you're targeting a new audience, then you might need to update your logo to appeal to them. This might mean making it more modern or adding new elements that reflect their interests.
Your logo is outdated
Your visual identity feels and looks dated? Then it's probably time for an update. Rediscovering your brand blueprint will allow you to align your brand design with your evolved business and create a new fresh look (and cool logo) that's relevant.
Your service has evolved but you have an old brand identity
If this is the case, then planning your brand blueprint is the perfect place to start before you revamp your logo. This could give you interesting insights before you do a complete overhaul.
Pssst... Is it time to rebrand your instagram? Head over to this blog post for a full breakdown.
4 things to do before your launch
You've figured a logo update is in order - YAY! But before the actual launch happens, here are some measures to take to avoid any rough situations from arising:
Before you launch your new logo, it's important to do your research and make sure it's the right fit for your business. This means considering things like your target audience, your industry, and your overall identity. Make sure to ask your internal team about it too.
Once designed, it's important to get feedback from people who will be seeing it. Remember, how customers reacted to Gap's reveal? You don't want to find yourself in those shoes!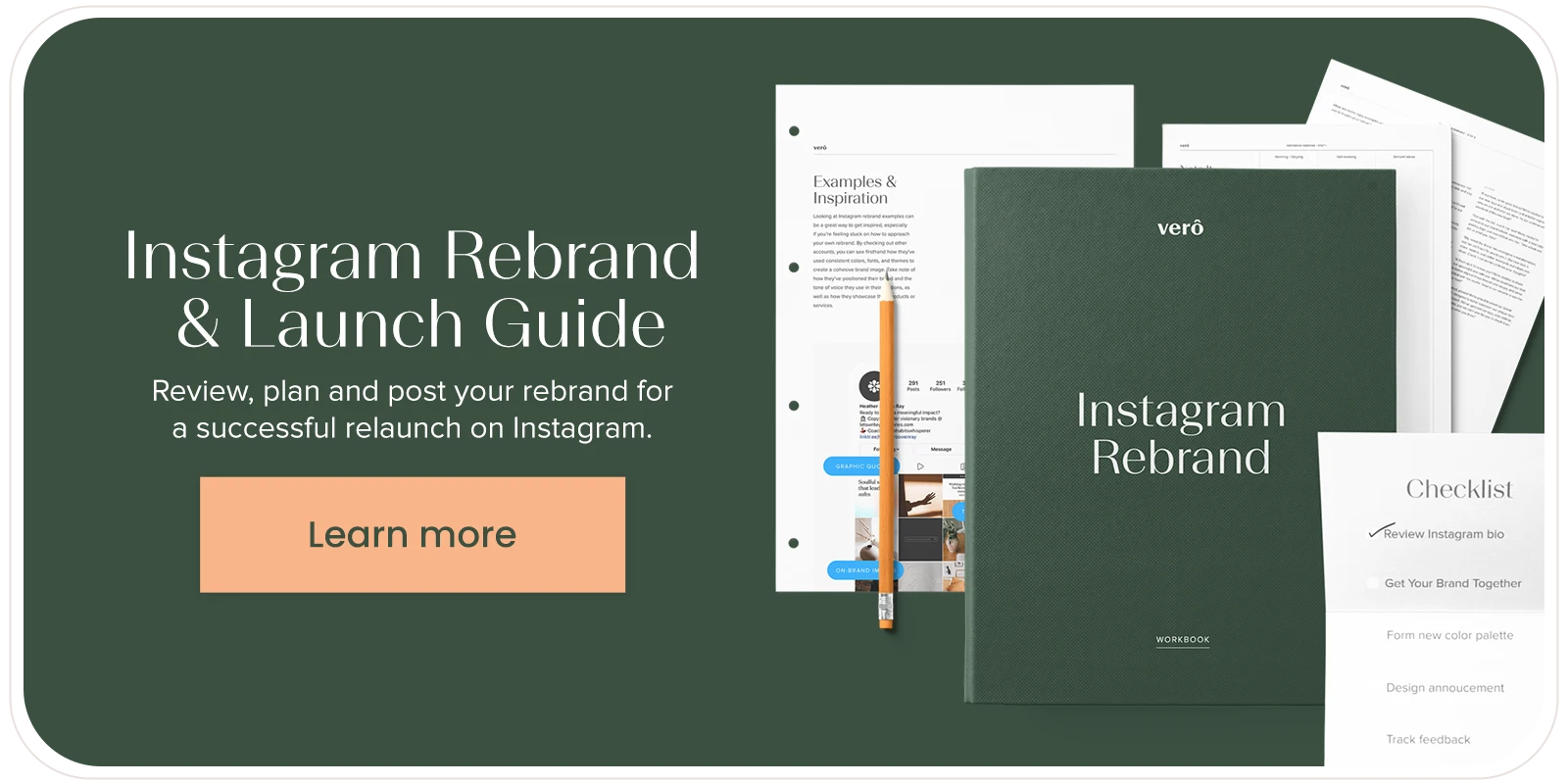 So make sure to do an internal launch and get your audience's reactions for a few weeks. This could include customers, employees, or other businesses in your industry.
Remember, companies - big or small - exist to serve so it's important to let everyone who has a stake raise their questions and concerns.
Before you officially launch your new logo to the world, be sure to test it out first. This means using it in a variety of situations and on a variety of platforms (such as social media or print).
Some logos may look great really big but dreadful when used tiny - make sure to discuss all these variations with your designer and test out your marketing collateral.
Finally, be prepared for change.
Launching a new logo is a big change for any business, so be prepared for it.
Letting go of something old and making space for the new is a transition that is not always easy - even when the change is good! So, have a plan in place for how you'll introduce the new logo and what you'll do if there are any problems.
10 Tips for promoting your new logo on Instagram:
A successful announcement on social media can help solidify your position in the market and connect with customers on a deeper level. But before you start sharing those pretty pictures, there are a few things you should keep in mind.
Here are ten tips for preparing for your upcoming rebrand campaign on Instagram and other social media profiles (plus some cool logo ideas):
Tip #01: Timing is everything.
When it comes to launching your logo on Instagram, timing is key. You want to make sure that you launch when your audience is most active on the platform.
For example, if you have a lot of followers in the United States, launch your new design on your social media accounts during peak hours in EST. Set a countdown timer and allow your followers to get notified on the big day!
Tip #02: Keep it short and sweet.
When you launch your new logo on Instagram, you don't want to overwhelm your followers with too much information. Keep your announcement short and to the point. Focus on high-quality content and visuals. Let your followers know what's coming and why they should be excited about it.
Tip #03: A picture is worth a thousand words.
When you launch your new logo on Instagram, make sure to use high-quality visuals and simple sales materials. This means using bright, colorful images that are attention-grabbing but not overwhelming.
Remember, people are visual creatures but Instagram is full of noise. So, the simpler your visuals are, the more likely they are to pay attention to your launch.
Tip #04: Use hashtags.
Hashtags are a great way to reach a wider audience, improve your social presence and launch your new logo on Instagram. When creating your hashtags, be sure to use relevant keywords that describe your business and target audience.
Create hashtags that include your brand name and any fun words that promote sharing and engagement. You can also include them in your Instagram bio. Just like Coca-Cola did.
Coca-Cola:
Coca-Cola revealed their new logo on Instagram with a video showing the evolution of their logo over the years. The business also used the hashtags #ShareACoke and #CocaCola to get people talking about their launch.
Tip #05: Create a fun contest.
Contests are a great way to launch your new logo and get people talking about your new brand.
To create a contest, simply ask your followers to post a picture of themselves using your new logo and use a specific hashtag. You can also tell them to share comments and re-share your post in their stories. Then, randomly select one winner to receive a prize, just like Starbucks did:
Starbucks:
For this campaign launch, Starbucks asked their followers to take a picture with their new red cup and share it on Instagram for a chance to win prizes, using the hashtag #RedCupContest
Tip #06: Use Instagram Stories.
Instagram Stories is a great way to launch your new brand because it allows you to share behind-the-scenes content, sneak peeks, and more. This is a great way to get your followers excited about your upcoming launch. Make time to talk and connect with your community.
Tip #07: Go live!
Going live on Instagram is another great way to launch and share the excitement of rebranding.
When you go live, all of your followers will be notified and can tune in to watch. This is a great opportunity to show off your logo and answer any questions that people may have about it. Prepare a good story that explains the reason you felt the update was necessary and how this reflects your mission and vision.
Tip #08: Get personal.
Make the logo redesign process hit close to home by sharing what this new chapter means to you and your clients on a personal level.
The Body Shop:
The Body Shop posted a launch video on their feed, featuring employees talking about what the new logo meant to them and how it represented The Body Shop's values. They also ran a series of social media ads featuring the new logo.
Tip #9: Go beyond social media: publish a blog post, do an event, etc.
Launch your new brand story in different formats and platforms. Your audience will love getting to know the nitty gritty process through a long-written article format, video or event. Talk about anything related to why you decided to rebrand, invite your audience to follow along your transformation and celebrate with you.
Tip #10: Have fun!
Launching a new logo on Instagram should be fun so make sure to enjoy the process. Be creative, try new things, and most importantly, have fun with your announcement!
Try different social media profiles and see which one takes off. Use videos and GIFs. Post during your free time and tell your audience how exciting things are happening in your world.
Spotify:
Spotify revealed various cool logos through a series of short video clips featuring people from all over the world listening to music on Spotify.
Now it's your turn!
I hope this blog post has got you pumped! Be sure to keep these tips in mind as you create your social media strategy.
Sending you plenty of good vibes so that your rebranding on Instagram is a total success!
Verô
I hope you enjoyed reading this blog post!
If you want me to help you design a brand maximizes your business, connect with me.
Work with Verô