Logo with Long Name: 11 Ways To Stand Out (With Examples)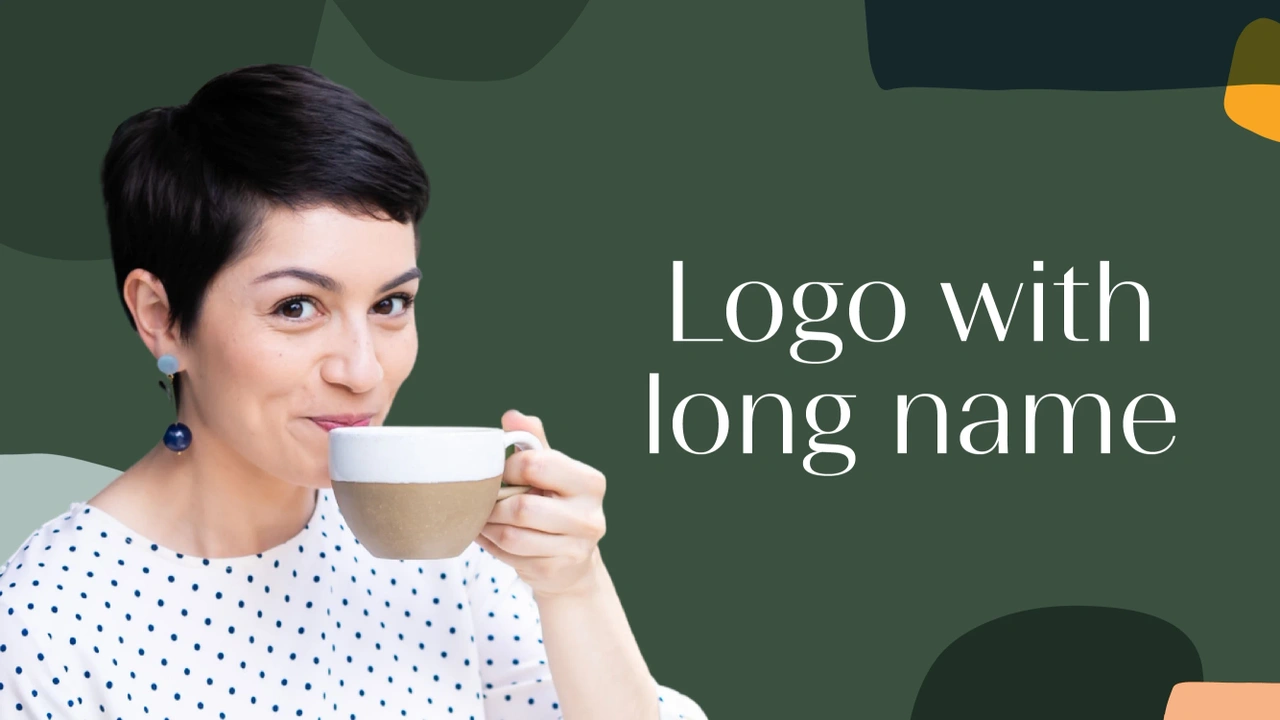 As a business owner with a long brand name, you know that finding professional designers that can design a good logo is essential to your success.
Why? Because a logo is often one of the first things potential customers see. You want to make it as eye-catching, easy-to-recognize and impactful as possible.
So, in this blog post, I'll cover 11 tips for businesses with long names to design logos that look professional and unique. I'll also share examples of famous logos with long company names to inspire you with good design ideas.
↘️ Psstt… As you create your logo, make sure your brand doesn't also have these 3 major branding mistakes. But if it does, I got you covered with steps on how to fix them!
---
TABLE OF CONTENTS:
---
Designing a logo is all about balance
Too much text can make a logo look busy or unprofessional, too little and your brand could fall short.
Long corporate logos can quickly look outdated and overwhelming if we're not careful. The key is to find a happy medium that represents your company well.
The challenge companies with long names face is having a logo that can feel crowded, outdated and gimmicky.
But don't despair just yet. The right designer has the knowledge and experience to make your logo look good! As a brand identity designer, it's crucial that I find that balance for my clients. So, grab a drink (and a cookie), things are about to get interesting!
Psstt...in a hurry? I've got you! Watch the video below where I share some top tips about good logos with a REAL LIFE client!
Logos with long names: 11 tips to nail them every time
I'll let you in on a little secret.
The number 1 rule about branding is: "Keep It Simple"
Especially if you are making logos with long company names.
Why? The brain processes a logo's visual elements in 400 milliseconds. That is the amount of time you have to make that first impression. Not a lot, right?
This means avoiding unnecessary embellishments like shadows, gradients, or other effects. A clean, straightforward logo will communicate professionalism and sophistication.
Use clean, simple fonts that are easy to read
One of the most important things to consider when choosing a font for logos is readability.
You want potential customers to be able to read your company name when looking at your logo. The words need to be quick to grasp at first glance.
Like this logo I designed for one of my brand identity clients:
So, avoid using fancy or script fonts that can be difficult to decipher.
Instead, opt for clean, simple fonts like Sans Serif or Serif. Think of fonts are easy on the eyes and will make long names stand out.
Make sure the spacing is right
An important element of typography is spacing. Too much or too little space between letters and words can make your logo look unfinished.
But if the letters are too close together on one line, it can be difficult to read. It's also important to pay attention to the available space you have on different media.
See for yourself:
Which one is easier to read? Remember, your customers take milliseconds to decide whether you are the right solution to their problem. Make it worth their time.
Avoid using too many colors
Another way to keep a logo looking professional and not too busy is to limit the number of colors you use. This holds true for any business, especially for those with long names.
Although I'm a big fan of rainbows and bright colors, using too many colors in branding is a different story. If it works in black and white, I promise you it will work in color! Here's an example of how this could look on a logo:
See the difference? In logo 1 the colors are balanced whereas logo 2 is visually overwhelming.
I typically recommend using one main color for the logo, with a variety of other colors in your color palette to give you flexibility in your branding. This will help your logo appear cohesive and easy to understand.
Build a cohesive color scheme
When choosing colors for your logo, it's important to create a cohesive color scheme too. This means picking colors that work well together and complement each other.
A good color scheme will make your logo look polished and put together.
Also, you will most probably have two versions of your logo in color and black and white depending on when you're using it!
Avoid using too many fonts
As with colors, you'll want to limit the number of fonts you use in your logo.
Horizontal long logos are a tricky thing. Too many fonts can make a long logo look busy and complicated. Not to mention, the long names will look very unprofessional and poorly designed.
So, to take on this logo challenge, stick to one or two fonts maximum, and be sure to choose fonts that work well together.
Make sure the proportions are balanced
Another important aspect of a logo with long names is proportion.
Aim for a balance of text and empty space. For instance, you can choose to use your first name as the main focus and your last name as a secondary element.
Often the proportion of your elements can make all the difference in helping your logo look visually appealing and easy to read.
If you are struggling with the long names challenge, you may want to consider adding an icon to your logo. This can help break up the words and make your logo more visually interesting.
When creating your icon, make sure that your horizontal lock up also looks good. This means that the wordmark, icon and all other elements of your logo should look great together.
Just be sure to choose an icon that represents your brand well.
When working with new clients, I always take the time to understand the business's mission, vision and core values so that we create a brand design (and logo icon) that is authentic and intentional.
Get creative with initials
Ever found yourself referring to a business by its initials more than its full name? Think about KFC, WB, NASA and P&G. I bet you recognized all these abbreviations!
Long logos and always communicating long names are not the only option in good branding.
You see, you don't actually need to use all the words.
If your business name is really long, you may want to consider abbreviating it. This can be an effective way to reduce the amount of text without sacrificing the meaning of long names. As a result, your logo is more manageable and prevents it from looking too busy.
Choose a layout that works
There are many different ways to layout text in your visuals. Your brand designer might consider a horizontal logo layout, especially if your company name is long. This will help prevent your logo from looking too cramped.
But having a horizontal logo is not the only option for long names.
If you want your logo to be truly unique, you may want to consider stacking it or a circular logo. When a straight line doesn't work, circles can do the trick. This type of logo is made up of words that are arranged in a circle. The result is fun and refreshing!
Use negative space to your advantage
Negative space is the empty space around and between the elements of logos. When used correctly, it can help to create more balanced and visually appealing logo elements.
For long logos, I often use negative space to break up the text and add visual interest. This can be done by adding a simple shape or icon within the text.
Were these tips for long name logos helpful? Watch more do's and don't of logo design here:
Examples of good logos with long names
Now that we've covered some ways to create a logo design that looks professional and unique, let's take a look at some examples of famous logos with long names:

Pew Research Center
When it comes to long names, Pew Research Center definitely tops the list.
Pew Research Center is a think-tank that provides information on public opinion polls, demographic trends, and social and economic issues. As you can see from their logo, they use a sleek Serif font that conveys excellence and expertise.
The simplicity of the font allows their horizontal long logo to be easily readable.
The Gates Foundation
The Gates Foundation is a private foundation founded by Bill and Melinda Gates. Their logo is a simple wordmark that uses a clean Sans Serif font.
The colors represent trustworthiness, optimism and hope. Again, they chose to keep their palette simple yet intentional.
World Wildlife Fund
Another great example is the World Wildlife Fund, whose mission is to protect the world's wildlife.
Here, their logo is a simple panda bear icon with their long brand name written underneath. By itself, the icon communicates clearly the organization's mission.
In addition, the use of negative space keeps the logo feeling clean and easy to read, while the black and white color palette gives it a classic look.
National Basketball Association
Do you love basketball? When is that last time you've said "The National Basketball Association" out loud? Gotcha!
The National Basketball Association, or NBA, is a professional basketball league in the United States.
Their logo is a simple wordmark, using the initials, that uses a clean Sans Serif font. People easily recognize their initials wherever they are.
Children's Hospital Los Angeles
The logo design for the Children's Hospital Los Angeles is another great example of a logo that uses initials.
It is composed of six different icons, each representing a different letter in their long name. This way they don't need to use all the words.
The use of colorful icons makes the logo fun and easy to remember, while still being easy to read.
Harvard University Press
Harvard University Press is the publishing house of Harvard University. Their logo is a simple wordmark that uses a clean Serif font.
The use of two colors keeps the logo from feeling too crowded, while still representing the mission of the organization.
Coca Cola
As one of the most recognized logos in the world, Coca Cola's logo is a prime example of how to successfully design for long names.
The use of the bold red color and simple script font makes the logo easy to read and recognizable.
The tails of each "C" gives the design a sense of balance, while still conveying the message of the brand.
The right logo designer can nail long logos
I hope this blog helps you see all the amazing logo design possibilities for long names!
Although it can be quite a challenge, creating a design that looks and feels good is not impossible. You just need to have the right support!
If you're looking for more design ideas and want to see how I personally design logos, be sure to check out my brand design portfolio. Psst...I even cover some awesome examples of logo refresh.
Your next step!
If you're looking for more help on designing good logos for long names or developing your brand identity, explore how we can work together in Remarkable.
In 30 days we build your visual identity from scratch and help you create visuals that breathe life into your business. Think, more sales, aligned connections and being able to make the impact you always wanted in the world!
Ready to take your business to the next level? I can't wait to see it happen!